As the mornings resonate with a bell call for :Assembly" and "Good Morning
Teacher "echoes in the school, all appears usual, until you realise the uniqueness of the schools.
Creative ideas adopted by some passionate educationists across our nation have helped shaped the landscape of education for those who need it the most. Embracing the rich diversity of our country's geography and demographics these special context schools have made their goal to provide a level playing field in the sector of education to the , young and overaged underprivileged citizens.
'Thinking Out of the Box' must be taught in schools – said a wise man once. But have you ever heard of these 'Out of the Box Schools' in India . These schools have broken stereotypes to bring Education to Indians. India ,with its more than 133 crore  population ,needs more such out of the box schools.
Schools for Tribals- Kalinga Institute of Social Science, Odisha
This school has won many accolades for its efforts in eradicating poverty through free education. It is the largest institute for tribal children providing education from KG to PG. Students from 62 indigenous communities are enrolled. The students are provided with food, accommodation, vocational training,health care and all other basic necessities of life are provided to 25, 000 poverty stricken children.
The Floating school – Loktak lake school, Manipur
This school was formed to provide proper education to high school dropouts and the children of fisherfolk, who could not send their children to any other school away from the village. It has been opened with the help of All Loktak Lake Fisherman's Union and an NGO – People Resources Development Association (PRDA).
The Train Platform Schools- Odisha
Unable to bear the plight of children at railway platforms. To save the children from being pushed into prostitution by the time they would be in their teens, Inderjit Khurana started teaching them at railway platforms. Hence the Railway Platform schools came into existence in 1985. Children are taught for 4 hours a day. Daily subjects includes games, music and dance. Children are also taught supplementary nutrition and health care.
Ruchika Social Service Organization which runs the schools has also started vocational training programmes for students who cannot go to formal schools. 10 such schools which cater to 4000 students are running successfully on the platforms in Odisha.
.
Music is in the air and in the earth- Karnataka
 At Kalkeri Sangeet Vidyalaya Music flows in every part  of this school. This school caters to the preparation of  musicians.  Music is the life of this vidyalaya so much so that even cottages here are named after ragas like Asavari, Bhairavi, Khamaj, Thodi and so on. The only qualification that a child needs to join this residential school is to be from a rural background. Food and education here are free. A typical day here begins at 5am with yoga and exercises. Post breakfast, there are music classes. Thereafter, children disperse to the cottages for their academic classes. The school follows the Karnataka state syllabus, and at present, has classes up to grade 10.
No text books, No exams at School, Ananya NGO- Bangalore.
An initiative of Dr Shashi Rao who took underprivileged children growing up in abusive homes who would not get to attend school and started imparting education to them. The classes were unique and interesting.  He began by interacting them about topics of their interest and gradually moved to subjects like maths and social studies.He later started a NGO Ananya and formed a full fledged school only for the underprivileged.
Students using both hands to write -Madhya Pradesh.
Veena Vadini school in Madhya Pradesh is genuinely one-of-its-kind!                      All 300 students enrolled in the school are ambidextrous, which means that they can write with both their hands! The students are trained to write using both hands from Class 1 itself and are also taught six different languages.
Yellow Train School, Coimbatore
Located in an organic farm, amidst green fields, orchards, amla groves, cows, peacocks, Yellow Train School is inspired by the Waldorf principles wherein children are encouraged to cultivate individual thinking. The school is gaining popularity for providing alternate, inclusive and holistic education rooted in the Indian context. Santhya Vikram, the school's founder, describes it as "a space where children will belong, will create a future for themselves and learn to give to the world."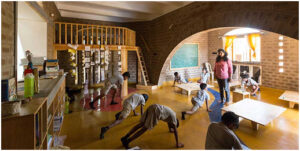 A school for grand mothers
Located in Maharashtra's Thane district,  Aajibaichi Shala is a school that caters to senior citizens who missed out on the chance to get education.
There are 27 grannies in the age group of 60 and 90 years who come to study here. They all sit together in a single classroom and learn to read and write. The medium of instruction is Marathi language. It was started by Yogendra Bangar and the Motiram Dalal Charitable Trust, the school has only senior adults as students.
The " Smart" School
It took one Zilla Parishad teacher in Maharashtra, Sandip Gund, to turn the tables for a ground breaking initiative to introduce tablets and  computer in classroom replacing textbooks. This school has now become a benchmark for more than 500 other schools in the state. He initiated teaching them  using science, animations and other interesting ways of teaching children.